Shop for Lenovo X1 Carbon – Core i5 8th Gen, 8GB RAM, 256GB SSD in Nairobi, Kenya
The Lenovo X1 Carbon 14″ Ultrabook Computer from Lenovo delivers both in terms of performance and mobility. This Lenovo Ultrabook has the storage technologies for ultra-fast boot times as well as the battery for longer battery life. The ThinkPad X1 Carbon features a carbon fibre lid with a magnesium-aluminium chassis for a slim and lightweight design, complete with a black finish.
Brilliant Display
The 14″ WQHD widescreen display is backlit with LED lamps, which brighten faster, use less power and last longer than their CCFL counterparts. The screen has a 16:9 aspect ratio, which is also the standard for HDTVs and Full HD 1080p videos. The 2560 x 1440 native resolution is supported by integrated Intel HD Graphics 4400. 14″ WQHD Antiglare LED-Backlit Display: The 14″ widescreen display features LED backlight technology, which is more eco-friendly than CCFL lights. The screen has a 16:9 aspect ratio and a 2560 x 1440 native resolution. It's powered by integrated Intel HD Graphics 4400, which can deliver crystal clear images, deeper black levels and vibrant colour for a visually immersive experience. You can also connect to an external display via the Mini DisplayPort
Sure Performance
The system is powered by a 6th-generation Haswell 2.1 GHz Intel Core i5 processor. It also has 8GB of 1600 MHz DDR3L RAM, a 256GB solid state drive, 802.11ac Wi-Fi, Bluetooth 4.0, a fingerprint reader, an integrated webcam and microphone. There are also built-in stereo speakers with Dolby Home Theater v4 technology.  The Lenovo X1 Carbon houses a 6th generation Haswell Intel Core i5 processor. Its dual cores can reach a stock speed of 2.1 GHz. The processor can also be overclocked up to 3.3 GHz, thanks to Intel Turbo Boost 2.0 technology. The 6th generation Haswell processor uses low voltage to extend battery life without sacrificing performance. With a dedicated 4MB L3 cache, 8GB of 1600 MHz DDR3L RAM, and Intel Hyper-Threading technology, you'll be able to push the dual cores up to four virtual cores for quick and efficient multitasking.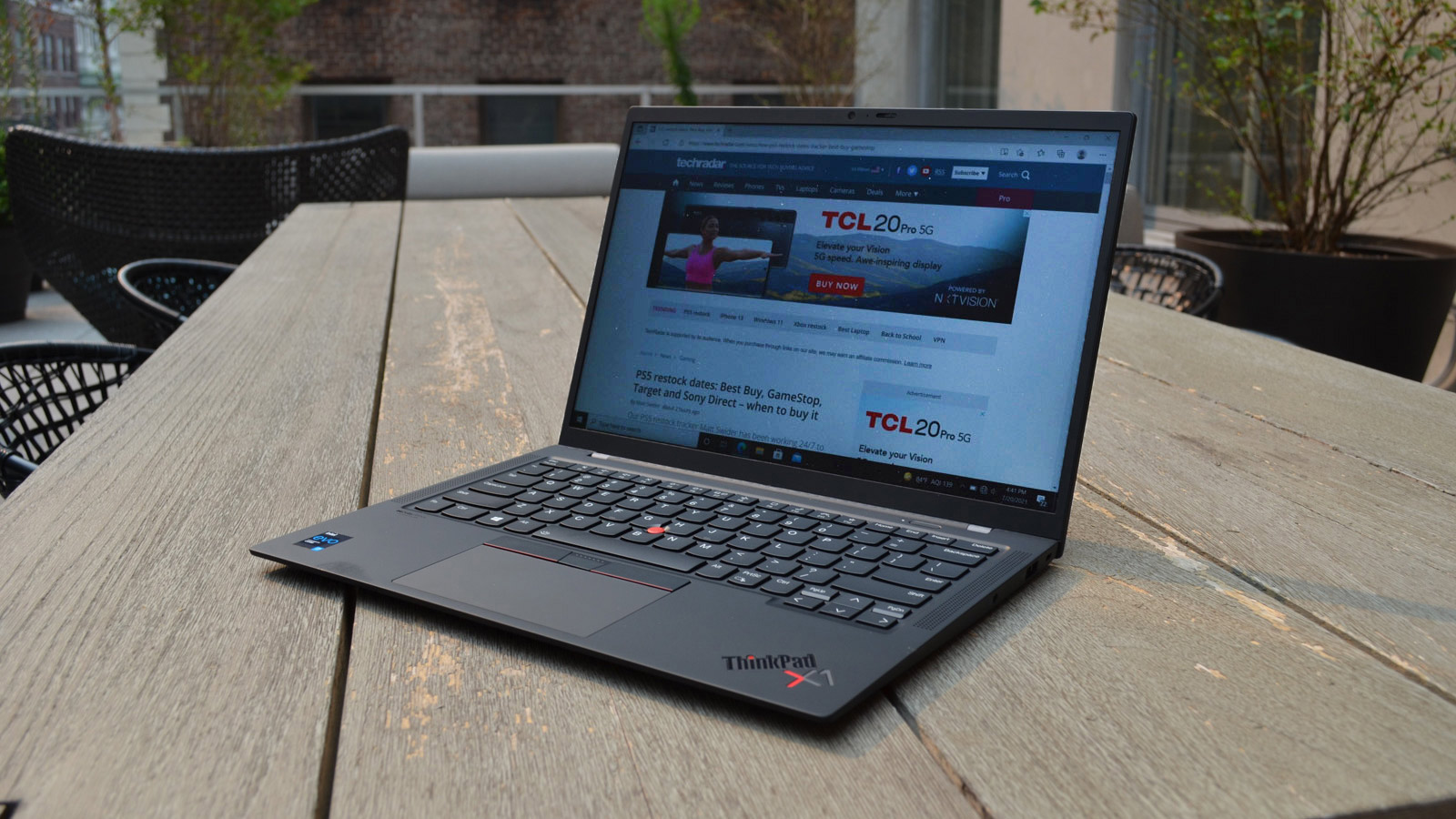 Seamless Connectivity
Stay Connected: Stay connected wirelessly to the Internet with 802.11ac Wi-Fi. A built-in webcam with an integrated microphone puts you face-to-face with friends or colleagues. There is also Bluetooth 4.0 support for wirelessly connecting all your peripherals to your ThinkPad X1 Carbon. With an 8-cell lithium polymer RapidCharge battery and approximately 8.7 hours of runtime, you can stay connected while on the go.  USB 3.0 – 10x Faster than USB 2.0: This Lenovo X1 Carbon has a USB 3.0 port, which is ten times faster than USB 2.0. USB 3.0 is also backwards compatible with USB 2.0 devices so you don't have to worry about losing access to your older peripherals. There is also a powered USB 3.0 port for charging your portable devices, such as an MP3 player or a mobile phone
Ultrathin and Ultraportable Design: The ThinkPad X1 Carbon can be placed in a backpack or tote bag without adding any unnecessary bulk. Take it to the office or on the road without breaking a sweat. The simple, uncluttered design not only looks good, but enhances your everyday computing experience.
ThinkPad X1 Carbon

Intel 

Core i5 8th Gen

14″ FHD IPS Display

Integrated Intel HD Graphics 520

256GB SSD M.2 Opal2, 

8GB RAM
1 Year Warranty
Visit https://www.ictshop.co.ke/product/brand-new-lenovo-x1-carbon-core-i5-8th-gen-8gb-ram-256gb-ssd/ for more info or call/whatsapp us on 0716000565 | 0740303047 | 0714565180