HP Pavilion 15- Product Overview
HP Pavilion 15-​ is the ideal device that you can bank upon for your daily work and entertainment needs. The device is fully supportive of your convenience requirements. With an AMD Ryzen 7 Mobile processor with a Radeon Graphics processor, The Pavilion has a Base Clock of 2.0GHz and  Max. Boost Clock of Up to 4.1GHz
that multitasking feels easy and fast. When your laptop is low on power, no one has time to wait for hours to recharge. Power down your device and go from 0 to 50% charge in no time, the HP Pavilion 15-eh0xxx​ can smoothly multitask demanding applications.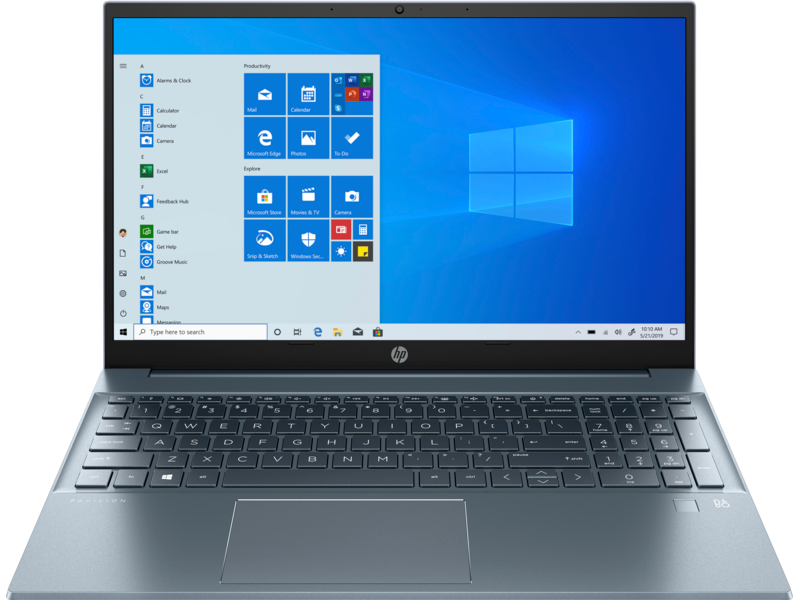 Powerful RAM and Adequate Storage
The HP Pavilion 15-eh0xxx Laptop comes with 8 GB memory that makes boots and reboots quicker and all types of applications processing swifter. You are able to get more downloads done with the same units of power that you used with earlier versions of the laptop. DDR4-2666 enabled SDRAM type is the perfect resource for graphics-rich images and videos and makes every work look just easy to achieve. An additional 512GB PCIe SSD is for you so you can store anything and everything that you need and have all the work resources within your reach all through the day. This ever-hungry hard drive allows you to have your personal collection of songs, videos, presentations, full novel and much more stored on the laptop, which you can use to keep yourself busy while on the move.
Stay Connected
This laptop includes an HD webcam, dual-array microphones, Bang & Olufsen stereo speakers, in addition to fast 802.11ax Wi-Fi and Gigabit Ethernet connections to help you stay in touch with others via video chats. Plug a headset into the 3.5mm audio jack or connect Bluetooth devices such as headphones for additional privacy and sound clarity. Enjoy USB 3.1. The USB 3.1 Gen 1 Type-A and Type-C ports on this system support speeds of up to 5 Gb/s.
Great Battery
Battery output of HP Pavilion Laptop reaches a maximum of 10 hours when you extract mixed-use off it comprising of textual and imagery work. But, with video playbacks, the time is reduced to 8 hours and 45 minutes and wireless streaming further reduces it to some Up to 8 hours and 45 minutes. This gives the added advantage of true mobility in your reach with this reliable battery quality. So, use the battery wisely when working off the hook and it will stay with you all the work hours of the day.
General Specifications
AMD Ryzen 7 4700U (8-Core) Processor at 2.0 GHz
8 GB DDR4 Memory
512GB PCIe SSD
15.6″ Touchscreen IPS micro-edge FHD (1920 x 1080) Display
Integrated AMD Radeon Graphics
Bluetooth 5.0
Full-size backlit keyboard with numeric keypad
Windows 10