Epson EpiqVision Flex CO-W01 Portable Projector Best price in Kenya
Product Overview
Enjoy versatile projection for remote work, home entertainment, and beyond with the Epson CO-W01 Projector. Designed to bring more ease and convenience to your workday, the Epson EpiqVision Flex CO-W01 Portable Projector delivers a widescreen picture up to 300″—that's four times larger than a 75″ flat panel—for collaborative online meetings and detailed presentations.
Perfect for engaging in at-home learning, immersive movie watching, and more, this 3,000-lumen projector offers Best-in-Class Color Brightness to deliver crisp, colorful images in virtually any lighting environment—even during the daytime. Sleek and compact, this portable projector can be easily carried in bags and backpacks for easy viewing virtually anywhere. And, with a built-in HDMI port and speaker, you can conveniently stream movies, TV shows, and more using your favorite streaming device for a truly amazing viewing experience.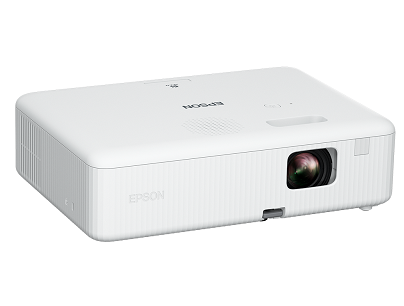 Bigger is better
Whether you're watching your favourite film or delivering a presentation, this projector can achieve an impressive 378 inch display. It's great quality too, with 3LCD technology that makes the display up to three times brighter than competitor products¹, thanks to its bright and vivid colours. From family and friends to business colleagues and clients, it's sure to get everyone's attention.
General Specifications
Create the big screen experience From box sets to business presentations, capture everyone's attention
Bright even with ambient light Equally high White and Colour Light Output of 3,000 lumens
Affordable, high-tech equipment Enjoy this WXGA projector
Long-lasting solution 18 years' worth of entertainment²
Portable and quick to set up Easy set up with keystone slider for perfect alignment
Order this Epson Projector enjoy countrywide delivery.